2021 Spring Funstix - Calgary
---
Funstix will be running in spring!
Ages 5-9 (Born between January 1, 2012 to May 1, 2016)
Must be 5 by the program start date.
This program is based on the fundamentals of field hockey. It is great for beginners! Basic skills are taught through fun drills and weekly mini-games. A T-shirt will be provided. Athletes will need shin pads, socks and mouth guards.
We will be running sessions twice a week, working on fundamentals of field hockey while playing games. Please see below for the schedule and location.
Prior to registering, please read the following protocols below on the COVID procedures to see if you or your athlete qualify.
Based on AHS regulations each training session will be limited, so please register as early as possible.
COVID PROCEDURES:

ALL athletes must follow the government of Alberta phase two COVID-19 guidelines for returning to sports and protocols established by FHA, FHC and coaches. Review the list below for the protocols you must adhere to prior to registering. It is critical that everyone abides by these rules for everyone's health and safety.
ALL ATHLETES can participate in ONLY one cohort group only - multisport athletes are prohibited.

If the athlete plays in another sport like ice hockey, he/she cannot participate in these training sessions.
If the athlete is registered for ladies' or men's league/cohort, he/she cannot participate in the CJFH league.

ONLY athletes may attend the training.

Spectators and parents are NOT allowed on facilities.
Drivers can drop off the athlete(s), but cannot enter the field.
Drivers may wait in the parking lot for the athlete(s).

Athletes are to maintain social distancing off the field - they must maintain 2 meters (6 feet) of spacing.
Upon registration, athletes must complete a waiver form, one time only.
Athletes are required to submit a daily COVID screening form (minimum 5 hours prior to each session). This includes practices, skills sessions and games.

Click on the link for the form. https://forms.gle/TQ3pVgA55bkWyTQC6

Athletes cannot share equipment, water bottles, etc. with each other.
Athletes cannot touch FHA equipment, including balls, cones, etc.
Change rooms are not available.
Arrive no earlier than 15 minutes prior to scheduled time(s), so come fully dressed and equipped.
Athletes must check in with the COVID officer at the entrance
Funstix Schedule
Cost: $160 + FHA Membership
Starting May 3, 2021
This also includes two tournaments (if AHS regulations permit):
Red Deer Tournament: June 5, 2021, Location & Details TBD
Calgary Festival: June 26, 2021, Location & Details TBD
LOCATIONS:
Aspen/Signal Hills/ West Springs

Coach: Abby Fung
Assistant coaches: TBD
Date: Tuesdays 6:00-7:00 pm, Sunday TBD
Location: TBD

Auburn Bay/Mahogany/Cranston

Coach: Kenneth Serrien
Assistant coaches: Rensche Venter, Ashpal Atwal
Date: Monday 6:00-7:00 pm, Sunday TBD
Location: Auburn Bay School, 7 Auburn Bay Ave SE, Calgary, AB T3M 0K9

Evergreen/Bridlewood/Midnapore

Coach: TBD
Assistant coaches: TBD
Date: Thursdays 6:00-7:00 pm, Sunday TBD
Location: N Mother Theresa

Mount Pleasant

Coach: Alyson Jenkins
Assistant coaches: Michael Seth, Caileigh Coverdale
Date: Mondays 6:00-7:00 pm, Sunday TBD
Location: King George Elementary, 2108 10 St NW, Calgary, AB T2M 3M4

Mount Royal

Coach: Avery Vadnai
Assistant coaches: Shelley Anderson, Sophie Anderson, Elliot Kellough
Date: Wednesday 6:00-7:00 pm, Sunday TBD
Location: TBD

Panorama/Evanston/Coventry Hills

Coach: Huyen Way
Assistant Coaches: Ashley Grieve, Jason Luong
Date: Thursdays 6:00-7:00 pm, Sunday TBD
Location: TBD

Taradale

Coach: Gurminder Dhillon
Assistant Coaches: Mandeep Jhally
Date: Wednesday 5:00 - 6:00 pm
Location: Ted Harrison School - 215 Tara Vista Way NE

Tuscany/Royal Oak

Coach: Emilly Connolly
Assistant coaches: Makrukh Tanweer, Emily Gilman
Date: Tuesdays 6:00-7:00 pm, Sunday TBD
Location: TBD

Varsity


Coach: Madison Macmillan
Assistant coaches: TBD
Date: Tuesdays 6:00-7:00 pm, Sunday TBD
Location: Marion Carson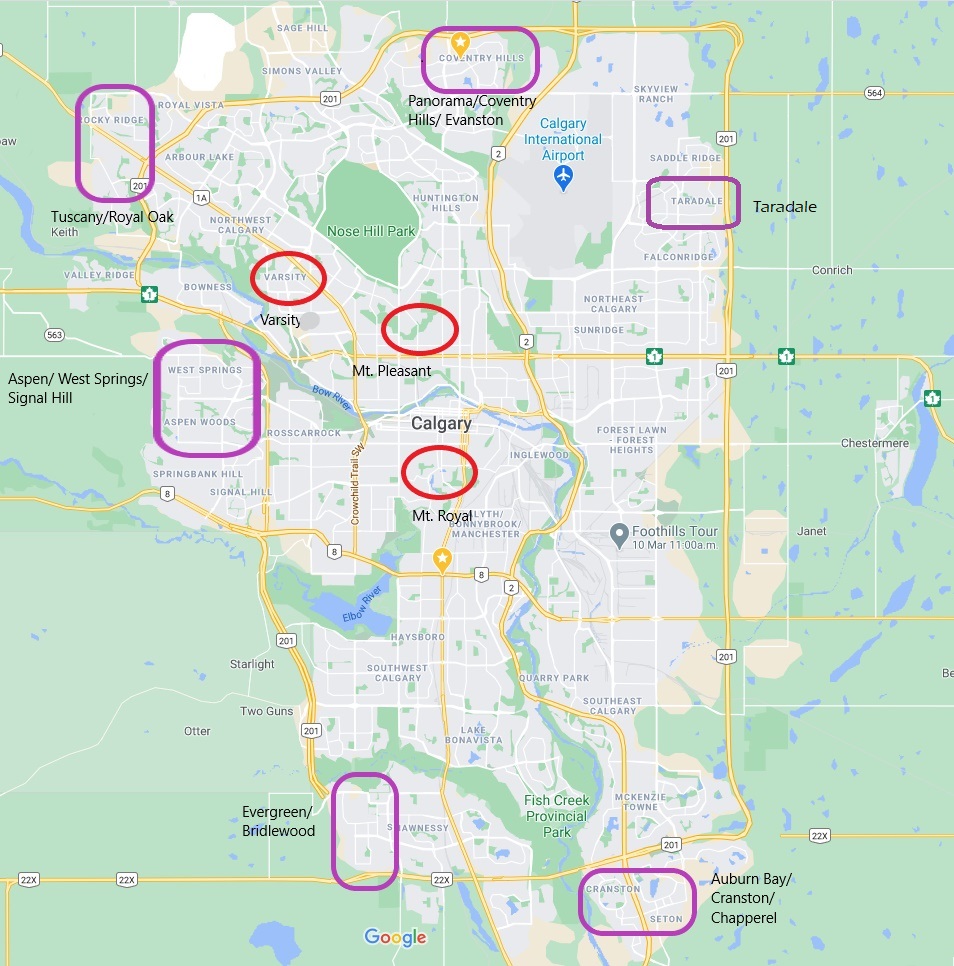 Q: What equipment is required?
A: Athletes are required to wear a mouth guard and shin pads during practices and games. A field hockey stick is also required and can be purchased from the FHA office for the season, and can be purchase online during registration.
T-shirts, long sleeve shirts, sweaters, jackets, shorts and athletic pants are recommended for games and practices. All participants will be provided with at jersey for games and socks. Make sure to dress appropriately for the weather, games will go even if it is raining, they will only be cancelled for lightning. Running shoes or field hockey turf shoes are required for games. Cleats damage the surface and are prohibited on turf.
Q: Can I rent a stick?
A: Due to the COVID, we are not renting sticks out at this time.
Q: Where can I purchase a field hockey stick?
A: AA Sports - Sohail Abdullah: sohail63@gmail.com or
Kicks- http://www.kickssports.ca/ or
FHA - https://www.rampregistrations.com/login?v3=a71e044b upon registration.
Q: Where can mouth guards, shin pads or practice socks be purchased?
A: Most sporting good stores carry these items (Sport Chek, Sport Mart, Kicks, etc). Call ahead to check availability.
Q: Where can I learn the basic rules of field hockey?
A: The following link is a good start: https://www.rulesofsport.com/sports/hockey-field.html
Q: It is game day and it is raining out, will there still be a game?
A: Games will run during the rain and light snow, they will be cancelled if there is lightning or the conditions become dangerous.
Q: It is raining and there is a practice scheduled, do we still have practice?
A: Practices will run unless noted by coaches. Practices will not be rescheduled.
For additional questions please contact Venus at admin@fieldhockey.ab.ca